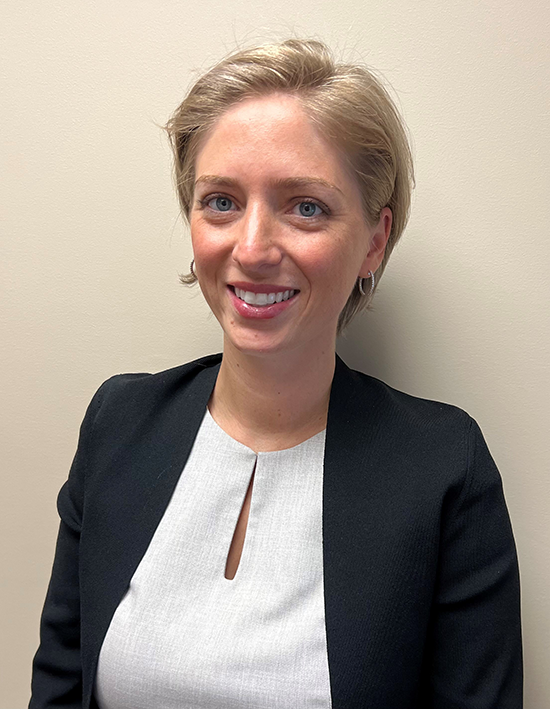 Devon DeMarco
Devon DeMarco was born and raised in New Jersey. After graduating from The College of New Jersey with a Bachelor of Fine Arts degree, she moved to Philadelphia and then to Boston for law school.
Devon earned her J.D. from Suffolk University Law School, with a certificate in Health and Biomedical Law. While in law school Devon clerked for First Justice Gregory Flynn and worked as a law clerk at a leading medical malpractice firm as well as a summer associate at a firm in Maine. She established her own practice in Maine after graduation, helping clients with personal injury, family, and criminal matters. She also served as Liaison on a five-year, $3.3 million-dollar National Science Foundation grant, where she worked with university faculty and administrators to develop policy changes related to the advancement and retention of women faculty in STEM fields.
Devon became a prosecutor in 2015. She was promoted to Deputy District Attorney in 2019, managing one of the busiest prosecutorial districts in Maine while maintaining an active caseload of some of the district's most serious cases, including manslaughter and crimes involving children. She served on a number of committees and task forces aimed at improving the fairness and quality of prosecutions and police investigations. After relocating to Northwest Indiana, Devon worked at a Chicago-based general practice firm before coming to Rhame and Elwood in the spring of 2022.
In addition to her legal work, Devon has been a cooperating faculty of law at the University of Maine's Maine Business School since 2014. She teaches law, management, and negotiation in the undergraduate and MBA programs. She also serves on the board of directors for a public water utility in northwest Indiana. She is licensed to practice in Indiana, Illinois, and Maine.